I'm so excited to be swapping blogs with Michelle today!! Let me introduce myself.....
I'm Misty from
Creative Itch
.
I've been happily married to my best friend for 12 years, and am the proud Momma of 5 fantastic kids....four girls, ages 10, 9, 7, 4, and a boy who's 2. I love anything and everything crafty, and am always on the hunt for great projects to try.
I have an ever growing "To Do List" on my sidebar, and thought I'd share a few that I've been able to tackle.
These cute
Accordion Albums
were fun and simple to make!
My daughters were pleased as punch with their cute
Scripture Covers!
And my sewing machine has been happy ever since I made this
Sewing Machine Cover
to protect her from all the dust that seems to collect in my house!
I also love to cook and bake!! I try and post recipes that my family loves on Fridays, like this yummy
Pistachio Nut Pudding!
If you're looking for some fun sewing ideas, or want to share one of your sewing projects, join me on Tuesdays for my
"Sew Cute Tuesday"
linky party! I'm amazed each week by the fun projects that are linked up!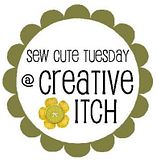 Before I go, Michelle asked me to answer 3 questions so you could get to know me a little bit better.......
#1. What is your favorite crafting tool or secret weapon?
Right now, my favorite crafting tool is my sewing machine! I'm a beginner when it comes to sewing, but I find it relaxing, and am always very proud of myself when I finish a project!
#2. If you could take the fam anywhere this Memorial Day Weekend, where would it be and why?
I would be content to stay home with my family this Memorial Day Weekend!! My husband works out of town 4 days a week, so when he's home, we try to take advantage of our time with him!! My perfect weekend would include playing games, watching movies, and having a BBQ with my little family!
#3. Describe your favorite pair of shoes...
I'm a plain Jane when it comes to shoes!! I own exactly 6 pairs of shoes and 2 pairs of flip flops. I love to look at cute shoes while shopping, but seldom buy any for myself. The ones I wear most often are a black pair of crocs. Boring, I know!!
Thanks again, Michelle, for letting me take over your blog today!! I had a blast!
--------------------------------------------------------------

Aren't those scripture covers adorable?! Thanks Misty for swappin' it up!

P.S. Don't forget to sign up for free Tipsy updates
via RSS or email.