Here's a fun little Valentine Breakfast idea I like to lovingly call the Toasty Heart. Yep, totally just made that up. It warms your heart doesn't it. ha ha So all you do is use a cookie cutter to make a hole in your bread (buttered on each side so it will "toast") then add an egg in the center. Cook like a fried egg.
Butter the little heart toast and throw it in the pan to toast.
Nice and golden brown.
Then, dip your little toast to your hearts content. While growing up, my parents would make these for us all the time. Not with a heart, they would cut out the hole with the rim of a glass. They called them Egyptian Sandwiches. Why, heaven only knows. They traveled to Egypt multiple times, but when they took me along a few years ago these were no where in site.
Why stop the lovey dovey breakfast with toast? This apple heart with caramel dip was just the ticket for my little health nut.
I just used caramel ice cream topping in the little dish for dip.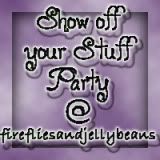 P.S. Don't forget to sign up for free Tipsy updates via RSS or email.
We have decided to truncate our feed to help protect against stolen content. I apologize for any inconvenience. Please love us anyway. 🙂