I put so much time and effort in to decorating I thought I would share a little home tour so someone besides me could enjoy it. 😉 So here is a whirlwind tour of my main floor. Enjoy!
I hope you enjoyed spending some time at my place! To see more Holiday Home Tours, head over to Tip Junkie! Reinvented has some great Trash to Treasure projects with wrapping paper.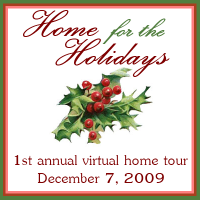 P.S. Don't forget to sign up for free Tipsy updates via RSS or email.
We have decided to truncate our feed to help protect against stolen content. I apologize for any inconvenience. Please love us anyway. 🙂