Hello A Little Tipsy land!
My name is Kristen, from
My Junk Drawer
. I am thrilled to be a guest today! I am even more thrilled to have Michelle over on my blog today.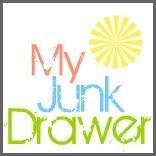 I am a SAHM/full time college student. I am married to a cool surfin' musician who loves to be a kid. I have 3 cute little kiddos, ages 8, 3, and 1. In between diaper duties, and writing essays I like to create. I like to create with fabric, paper, wood and food. Today I am here to share with you a little bit of my love for food.
I am excited to share this recipe with you today. It is super and easy and super yummy! It makes for a great family meal or a meal you take to a friend in need.
Have you ever planned on cooking a pot roast in your crock pot so at the end of the day you could take a break and not have to slave over the stove to make dinner? Have you ever forgot to turn it on and not realized that it wasn't on until it was too late to cook it in the crock pot? I have too! Today I am going to share my new way of making a pot roast dinner that tastes even better than in the crock pot. The potatoes and carrots don't come out soggy, they come out perfect! And it only takes 3 hours, instead of 8!
Here we go…
Ingredients:
meat of choice-about 1/4 lb per person
potatoes-2 per person
one bag of baby carrots
seasoning
Step 1: Preheat oven to 300.
Step 2: Get out your roasting pan.
(I love my roasting pan, the best part is that it was only $8 at Wal-Mart)
Step 3: Prepare your meat by stabbing it a bunch of times with a fork, I think the proper term is tenderize (???).
It should look like this on both sides (look closely, there are a BUNCH of holes).
Step 4: Season it, generously, on both sides.
Step 5: Add water, not too much just enough to cover the bottom of the pan. It should only go up about 1/4 of the height of the meat. Cover with lid.
Step 6: Put it in the oven for about 2 hours. Chop up your potatoes sometime during this 2 hours. At the end of 2 hours it should look like this.
Step 7: Add potatoes and carrots, cover with lid. Put back in oven for 1 more hour.
Step 8: Take the pan out of the oven and test your meat. You do this by sticking a fork in it and twisting it. If the meat pulls apart you are good to go, if it doesn't pull apart then stick it back in for 30 minutes and you will be good.
This is what you will end up with. Delicious pot roast with meat that melts in your mouth and veggies that have the perfect amount of bite left.
A huge thank you to Michelle for letting me invade her blog today! Make sure you all stop by
My Junk Drawer
and look around, I promise you will find something you like. 🙂
——————————————————————–
Thanks for stopping in Kristen! I am definitely going to try this one! I have a secret. I have never cooked a good roast. I can't seem to find a happy medium with my hot running crock pot, so I am off to get myself a roasting pan!
P.S. Don't forget to sign up for free Tipsy updates via RSS or email.
We have decided to truncate our feed to help protect against stolen content. I apologize for any inconvenience. Please love us anyway. 🙂