Many of you are already aware of my relationship that started this fall with the tall sleek…can of spray paint. Once I found my true makeover love, I could not put the can down. Suddenly, a whole new world opened before my eyes. I could transform monstrously ugly items into wonderful home decor staples. Ah paint, how did I ever live without you?
So when I found out that Shanty 2 Chic was having a Rustoleum party, how could I not join in and give you a recap of some of my transformations. Here it is, my fall fling with a can of black and a can of heirloom white. Ah yes, I feel a trip to the hardware store coming on.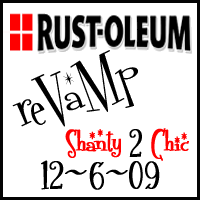 Some canyon black and an eight legged friend can take a 50 cent
garage sale mirror from gaudy to spooky
.
A bit of heirloom white can $1 garage sale urn from blah to voila! I have plans for that horrendous topiary too…if I can ever get to it. 😉
A little more heirloom white can turn a pair of pedestal candlesticks from animal to minimal.
P.S. Don't forget to sign up for free Tipsy updates via RSS or email.
We have decided to truncate our feed to help protect against stolen content. I apologize for any inconvenience. Please love us anyway. 🙂