Ribbon Topiary
by Whitney Caroline Designs
Isn't this cute?! I have the Styrofoam ball and moss left over from my
DIY moss ball
project (coming soon). I bought a container I am going to paint and a some star ribbon at the dollar store yesterday so I just need a little more ribbon and a dowel!
Sand Candles
from Martha Stewart
If you can pour, you can do this! Just add a votive candle to a cup of sand. Easy peasy!
Presidential garland
by Lipstick and Laundry
She got the president flashcards from the Target dollar section and hung them with twine and mini clothespins. What a fun idea!
Uncle Sam Windsock
by McIllece Spot
Another fantastic use for an oatmeal can!What a cute and friendly way yo dress up your doorstep or deck!
Little Hands and Feet flag
from Serendipity
This is just too cute! The kids will love playing with the paint and displaying this work of art.
Paper Cone Fireworks
by Little Birdie Secrets
This one was not necessarily meant to be for the 4th, but wouldn't those paper cones make really cute fireworks made out of Red, White and Blue papers?!
Party poppers
by Little Birdie Secrets
I totally have plans to make some of these for my little guy and nieces and nephews. I am going to combine this design with the next one so they look more like firecrackers with the tie on one end only. I got a bunch of fun 4th stuff (necklaces, bubbles, pop-its, etc) in the Target dollar section to fill them with. Now I just need to use a bunch of toilet paper and fast! I need those cardboard rolls!
Firecracker Candy Favors
from Homemaking Fun
Lifesavers never looked so good!
Firecracker Craft
from make and Takes
A really fun craft for the kiddos. I just got a pack of really bright tissue paper at the dollar store to make my party poppers and was wondering what to do with the orange and yellow.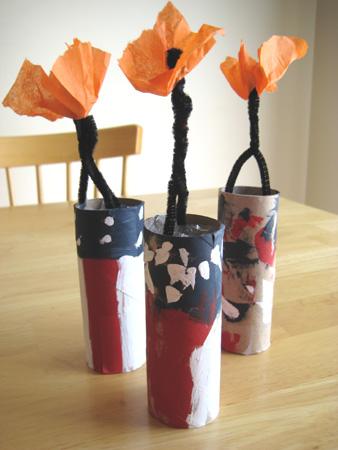 4th of July Twirlers
by Family Fun
All you need is plastic lids, scissors and string!
Star Spangled Luminaries
from Family Fun
A great way to brighten up the night at home! Make them festive with tissue paper lining the cutouts or to keep it simple, just leave them brown.
Just one week until the fourth! Better get to it! Later!
P.S. Don't forget to sign up for free Tipsy updates
via RSS or email.