While on our vacation in Bear Lake we stumbled upon the subject of appropriate shows for small children. I shared how I was recently very disappointed with Sesame Street when they had an entire episode on "Mineitis." All the characters ran around grabbing whatever they could and yelling "Mine." Their intention was to then show the cure and show that it was wrong, but I was concerned that the age group that watches Sesame Street (my 20 month old) would not pick up on the reverse psychology. I was right. A few days later he began grabbing things and saying "mine!" He had never done this previously. Luckily, he is catching on that it is wrong since he gets in trouble every time he says it.
My sister-in-law mentioned that her friend thought Sesame Street might actually contribute to ADHD because of its short choppy clips. I had never thought of this, but she is totally right. This opened my eyes and I got to thinking I might need to switch our programming choices, though my little guy adores Elmo. (Maybe I will just let him watch the Elmo's world segment)
I set out on a quest to find a place with ratings on age appropriateness and educational value of children's programming. In my 15 minutes of research I found something shocking! I knew too much TV leads to obesity and so on, but I had no idea of some of the research out there.
Did you know:
TV may increase the risk for attentional problems

because television images change rapidly, "which is an important contrast to the pace of real life," he says. He notes that even some well-respected children's programs - such as Sesame Street -- are specifically designed to rely on rapid fire images to keep a young child's attention. (1)

In the Academy's journal Pediatrics the report's authors write: "Pediatricians should urge parents to avoid television viewing for children under the age of 2 years." (2)
TV watching "rewires" an infant's brain, says Dr. Dimitri A. Christakis lead researcher and director of the Child Health Institute at Children's Hospital and Regional Medical Center, Seattle, Wash. The damage shows up at age 7 when children have difficulty paying attention in school. (3)
"In contrast to the way real life unfolds and is experienced by young children, the pace of TV is greatly sped up." says Christakis. His research appears in the April 2004 issue of Pediatrics. Quick scene shifts of video images become "normal," to a baby "when in fact, it's decidedly not normal or natural." Christakis says. Exposing a baby's developing brain to videos may overstimulate it, causing permanent changes in developing neural pathways.(3)
Even a child playing with its own fingers has the neural patterning that comes from bending, flexing, stretching and grasping. Scientists tell us that the brain develops in completely unique ways between birth and three years. As a kiddie viddie baby sits "mesmerized", neural paths are not being created. This is crucial brain development that stops by age three.(3)
In the study of more than 2,000 children, Christakis found that

for every hour watched at age one and age three, the children had almost a ten percent higher chance of developing attention problems

that could be diagnosed as ADHD by age 7. A toddler watching three hours of infant television daily had nearly a 30 percent higher chance of having attention problems in school.(3)
No child under age two should watch television at all, the Academy of American Pediatrics advised in 1998. Doctors blame TV for increasing aggression and obesity in children, now they add ADHD risk to early TV use.(3)
(Sources for quotes listed by number below.)
Crazy isn't it?! My little one was watching about an hour of TV a day so I could shower or put away laundry. Now that I have read all of this I think I will cut that down to 30 minutes (a mom's gotta have a break now and then) and seriously look at any programming I may expose him to. I want something that has good values and is educational, does not have choppy clips, and does not annoy me. This is a pretty hard combination to find.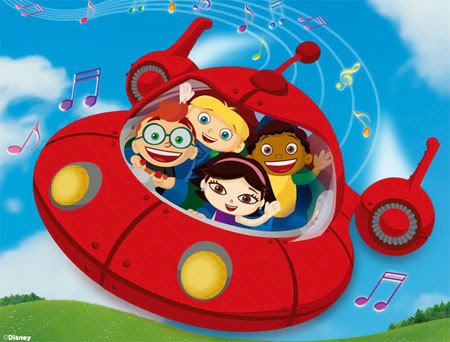 Here are a few children's shows we like:
The Backyardigans
Little Einsteins
Mickey Mouse Clubhouse
Veggietales
Wordworld (the duck is a little annoying)
Little People Videos
What are some of your favorites?
P.S. Don't forget to sign up for free Tipsy updates
via RSS or email.