A Disney trip is definitely something to look forward to so we created a fun countdown to turn up the excitement, but also help prepare us for the trip. I saw this fun Disney countdown and put my own spin on it.
DISNEY COUNTDOWN
Color a Disney picture

Which 3 characters do you most want to meet?

Make Disney characters out of playdough

Play Disney scene it

Choose a light up toy for parades & fireworks

Sing your favorite Disney song

Write a letter to your favorite Disney character

Play Disney games on the computer

Dress like pirates and dance to yo ho a pirate's life for me & the jake & the neverland pirates theme song

Make mickey oreos

Find the hidden mickeys around the house (cut them out with my cricut and hung them around the basement)

Make a Disney water bottle

Watch Disney videos on you tube

Play Disneyland or rush on xbox Kinect

Make tags for the stroller and luggage

Name the 3 rides you are most looking forward to.

Make mickey mousse.

Have a Disney Pajama party and watch a Disney movie.

What should we do if we get lost? Make tattoos with phone number.

Make mickey pancakes
The kids loved having fun activities everyday and I loved that it kept me on task to get some trip preparations done in advance. This really did create a great atmosphere in our home before leaving on our trip!
Inspired by:
Mickey Mousse We used Oreo pudding and added the chocolate mickey on top.
Mickey Oreos We used Nerds for buttons.
Wednesdays through January
Linking with: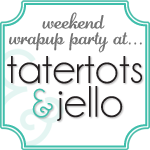 P.S. Don't forget to sign up for free Tipsy updates via RSS or email.
We have decided to truncate our feed to help protect against stolen content. I apologize for any inconvenience. Please love us anyway. 🙂