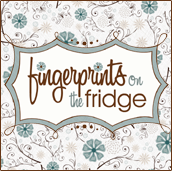 Today I'm swappin' with Miss Michelle, she graciously let me come over and wreck up her blog. Isn't that sweet!? ;)

If you're not familiar with me let me introduce myself.

I'm a Mom & Wife with an obsession with decorating, crafting, and power tools. Along with a healthy dab of playing princess, putting together puzzles and listening to Hannah Montana.
When we aren't rockin' out I can be found somewhere around the house simply fluffing things like:
Sometimes I'm adventurous and want to dive into something a little tougher than fluffing. Just last year the Husband and I recently
gutted our kitchen & dining room.
Quite a change eh?
I'd love for you to come over and say hello sometime! Or, come over and Feature Yourself on Fridays for my super Linky party! Can't wait to meet some new faces!

Yes this post is gettin' pretty lengthy but I thought I'd end it with a sweet little Christmas decoration that's extremely easy to make.
When I saw this photo over at
BHG
I knew I had to have it. No doubt, it had to be mine. I do love the colors but they wouldn't go with much in my house at the moment, so I had to improvise.
I made a ton of these Santa Jars last year to give Oreo truffles in so I just made another big ol' one.
You can't really mess this up, red body, white paint for fur, black belt and a silver buckle, last year the buckles were gold. This year, gold was not in my stash, which actually worked out because I used red and silver ornaments.

Fate I tell you. ;)
Now take your foam ball and heat up your glue gun. Put a rim of glue around each neck of the ornaments then stick them in place. I used mini ornaments to fill in the gaps.
(Yes, I do my best work on the kitchen floor.)
Looking back on this project I would most definitely spray paint the ball first, you can still kind of see green, oh well live and learn.
Glue the top and bottom of the dowel and stick it in the foam ball and the foam blocks and stick it in your pot. Throw some left over fake snow from your
mantel project
in the pot to hide the the dusty devil green floral foam. Done and done! See how easy that was?
Thank you so much Michelle for letting me crash today! You're the sweetest!
----------------------------------------------------

Love that adorable topiary and when I grow up I totally want a mud room! Thanks for swappin' it up Rachelle!

P.S. Don't forget to sign up for free Tipsy updates
via RSS or email.