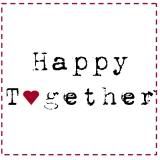 Hi everyone 🙂 My name is Jessica from Happy Together and I have the pleasure of blog swapping with Michelle today.
I am blessed to be able to live my dreams by staying home with my daughter and being able to use my creative talents. I share on my blog mostly crafty things with lots of tutorials and the occasional other things sprinkled in. I also have an Etsy shop where patterns I make are for sale as well as other things like headbands for your cutie pie. Today I wanted to share a simple tutorial to make a trimmings bracelet.
I thought of this when I was trying to come up with something to do with small pieces of trims/ribbons I would have left over from projects.
They are quick to make and require no jewelry making experience. Here we go……
Start by gathering what you need:
-Leftover trims, ribbons, etc. at least 8″ long
-Scissors
-Embroidery Thread
-Needle
-Clasp (I used toggle clasps)
-Glue and/or heat sealing instrument (candle, wood burning tool)
Cut the ribbons and trims to be about 8 inches. You can measure your wrist and change this if needed, but I made it so it had extra room on my wrist but not enough to fall off.
I always heat seal with a candle flame.
I enjoyed having the opportunity to share with the all of the readers here at A Little Tipsy.
Stop by and visit
from time to time 🙂
——————————————————————-
Isn't she adorable?! How fun are these bracelets for summer! Thanks Jessica for swappin' it up with me today!
P.S. Don't forget to sign up for free Tipsy updates via RSS or email.
We have decided to truncate our feed to help protect against stolen content. I apologize for any inconvenience. Please love us anyway. 🙂