I know, I know, two in one day! There are so many amazing giveaways this week that I have to double up some days! I just want to you guys how much I appreciate your support this last year. Hopefully there will be something for everyone.
I got my first question (!!!) from Juliana of
A Blonde Walks in to a Blog
. She asked, "What are your top favorite (5) books, movies and shows?" This is a hard one for me.
Books:
Twilight Series
Harry Potter Series
Dan Brown Da Vinci Code, Angels & Demons etc
Totally sad and cliche I know. I am not much of a fiction reader so I only pick it up if it is a wide spread craze. I read mostly how to and advice books. Kind of nerdy.
Movies:
Pride & Prejudice
Two Weeks Notice

Enchanted
27 Dresses
17 Again
Pretty much most romantic Comedies. Again, cliche.
So You Think You Can Dance
Glee
Bones
The Mentalist
The Bachelor(ette)
Project Runway
The Office
Gilmore Girls

That was way more than 5, but I just kept thinking of more. Thank goodness I have a Tivo that can keep them for two weeks until I finally find time to watch some before they fall off. Oh and I recently discovered Hulu for those times when the TiVo randomly decides not to record.
Now back to our regular scheduled programming!
This next company is to make your life easier. It is the cleverest little meal planning system that comes complete with recipes and shopping lists. The girls at
Pocket Full of Posies
do it all for you!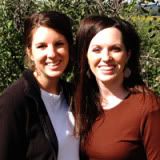 They have a great little
video to show you how it all works
.
I know you totally want it now don't you! Well it's your lucky day!
Cammie and Emily are
giving away a
Monthly Meal Planning Pocket System!
That includes:
1 Magnetic Monthly Pocket
Recipe Packages 1 & 2 (40 recipes total)
8 ingredient lists
How To instructions


To Enter:
Mandatory entry: Visit Pocket Full of Posies and tell us what you like about the system or why you want it.
Extra entries (leave a separate comment for each):
Follow A Little Tipsy
Follow me on Twitter

Tweet or Facebook about this giveaway and leave the link in your comment
Put our button on your blog (in a post or on the sidebar) and leave the link

Good luck! The winner will be announced Saturday the 20th at the Blogiversary Celebration Finale!
Pocket Full of Posies provided the prize for the giveaway, but I was in no other way compensated for this post.
Jacob pic from: http://www.fanpop.com/spots/new-moon-movie/images/7205622/title/new-jacob-black-promo
P.S. Don't forget to sign up for free Tipsy updates
via RSS or email.