When talking with my sis about what she needed for her baby girl she mentioned that she had a lot of clothes, but many of them were for warm weather. So I got to work on the baby legs and this adorable no sew girly fleece cape I saw over on Ruffles and Stuff (Disney is amazing!!).
I knew many of the baby's clothes were pink and purple and had this cute pink ribbon with brown flowers, so I went out and purchased some brown fleece. I apologize in advance for the pics! I followed the tutorial from Ruffles and Stuff for the most part, just on a smaller scale. I used a Lysol wipes container as a newborn size guide. 🙂
As you can see, I did not cut the arm slits because I was not sure where they should go for a baby so I wanted to do it once she arrived.
Once I got to the closure step of the tutorial (the little bows on the front bottom), I got confused and could figure out how to do the ties. If you can, go ahead and do that method or you can opt for what I did instead. *involves a needle and thread*
I tied two little bows for the outside and got some velcro dots for the inside to hold it closed. I stitched the bow to the outside and then stuck the velcro dots in place. Make sure they are the permanent glue velcro dots and that you stick them on really well.
And there you have it! A cute little cape to keep your bundle of joy cozy. This only took me a couple of hours one night to complete. I also made a matching hair bow that is coming up tomorrow!
Linking up: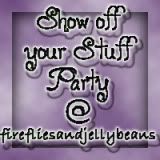 P.S. Don't forget to sign up for free Tipsy updates
via RSS or email.
We have decided to truncate our feed to help protect against stolen content. I apologize for any inconvenience. Please love us anyway. 🙂