I put so much time and effort in to decorating I thought I would share a little home tour so someone besides me could enjoy it. ;) So here is a whirlwind tour of my main floor. Enjoy!
Then, the door opens to a garland on the banister.

(Dollar store garland with leftover ribbon)
Turn to the right to see the tree. It is massive and takes like 10 strings of lights. Kicks my tail every year!
The stockings were hung from the small shelf with care. I learned to put them up high after one of the stocking hangers nearly took out my son last year.
Row, Row, Row through the snow? Added some leftover ribbon.
Sorry, this is hard to see. There is my olive wood nativity from Israel, A small nativity that says "Jesus is the Reason for the Season", A Believe sign, the piano music to "Silent Night", a basket of cinnamon pine cones holding up a "Joy" tile, a Father Christmas figure and a tiny nativity in the midst of the words Silent Night. Phew.
Click on the pic to see it bigger.
Some of the little ones Christmasy art on the pantry door. A tile on top of the cabinets.
I LOVE this quote!! My parents gave it to me for Christmas last year.
Sleigh (hand me down from mom) and tree (from college dorm) arrangement for the counter and more cabinet decor. All the random greenery is stuff that fell off my tree when hubs put it up that I didn't bother to put back on.
Mr. Snowman stares down at us from above the blinds to the door waiting for a good time to pelt us with his snowball. Candy Cane Candle arrangement for the table. Warning:when storing your Christmas decor in the shed during 100 degree summers, your candles may warp. ;)
This is my very favorite decor item this year!! My mom always had her banister decorated with a pine garland tied with ribbons and I always loved it. Mine is much less formal, but I adore the plaid burlap type ribbon!
I told hubs he had to be decorated with a Christmasy blanket if he was going to be in the pic. JK
Again, dollar store garland with ribbon I bought one year at the after Christmas sale.
Some wall decor to transition us to the Family room. No, I did not stitch that cute sign. I bought it from Deseret Book on the after Christmas sale. I made the decoupage wood stocking at my Sister's Mother-in-law's Super Saturday many moons ago.
Winterizing the bathroom. My hubs actually laughed out loud at the wash cloths in the s'more snowman mug. We have a joke about my mugs. He hates them.
Adding a little flair to the DVD cases. We like to store our souvenirs from our travels here, so it was a natural addition to add a nativity from my Israel trip. The snowman was a gift from a good friend.
See there are benefits to not having a flat panel TV. ;)
More stuff.
Simplify your life, Believe in your dreams, See with your heart, Know what love means. Not necessarily a Christmas quote, but it fits the season for me.
I hope you enjoyed spending some time at my place! To see more Holiday Home Tours, head over to
Tip Junkie
! Reinvented has some great
Trash to Treasure projects
with wrapping paper.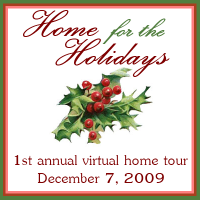 P.S. Don't forget to sign up for free Tipsy updates via RSS or email.