Here are some ideas I found in my search for a more personal Mother's Day gift. Wouldn't it be nice to make something instead of just sending a random card with something you found at Target last minute? There is still time to make something great! Here are just a few ideas I liked. They seem quite a step up from a World's Greatest Mom mug.
Flower Pins from Grace Violet

The ultimate shabby chic! I love these! You can use them anywhere: embellish clothing, bags, storage containers, vases, hair, you name it!




Monogram madness from Living With Lindsay

You all know about my recent monogram obsession. How about a classy framed monogram for those elegant, clean line moms.

Or how great would it be to monogram a tin and fill it with fresh flowers that she can later use to house office or craft supplies.



Coconut Chocolate Swirl Cake from She's Crafty

Um, YUM! If nothing else I am making this for ME!!! I love how the ribbon adds a pop of color!

Cute Clips from She's Crafty

Rachelle uses these as chip clips, but I can imagine them everywhere. Hanging from a string of ribbon holding pictures, with magnets on the back to hold notes on the fridge, pinning my sons pants up because he is too darn skinny. (Ok, maybe not that last one.)

Adorable Place Mat Tote by J Caroline Creative

I showed you the single place mat scripture bag we made in an Easter Gift post. What about a two place mat tote for mom. She can use it for church, gardening supplies, Sewing supplies, trips to the lake, whatever. Hey, you could even take it a step further and fill it with supplies for her favorite hobby.

Chocolate Dipped Pretzel Hearts by Make and Takes

Don't these look yummy! They remind me of something you would find in the candy shoppes along Park City's Main Street. You could put them in a fun box that she can keep for jewelry or other little keepsakes.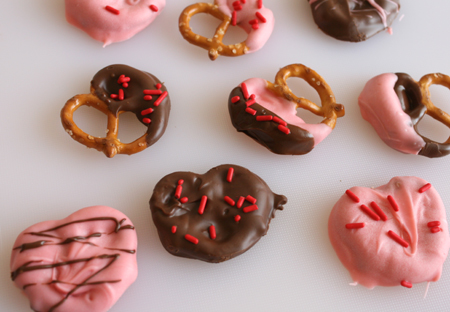 Asparagus Flower Arrangement by Bloggin' It From the Burbs

I LOVE asparagus, but would have never thought to use it like this. This cute arrangement is something anyone can do!


Bloom Blocks by Lincoln 6th Super Saturday

How about some fun spring decor? I love how they have used the flowers for the Os! You could even add another board that says "where you're planted."

If you have or have seen a great idea please share
either in the comments or by email Muhanahuli (at) Yahoo (dot) com.
Just one more thing, how come Dad's and Grandpa's get all the fun primary songs while Mom's get songs about meadow's of clover? No fair! My mom used to love *she says in a sarcastic voice* to hear them sing "Love at Home" while the 6 of us fought over crayons on the pew. 😉

We have decided to truncate our feed to help protect against stolen content. I apologize for any inconvenience. Please love us anyway.